Over the past several years, export controls have been tightened by postal administrations, customs authorities, and other regulatory organizations worldwide.
As a result, these organizations have been more actively enforcing several long-standing regulations. Recently, these controls have been increasingly tightened, resulting in added costs and packages returned to sender.
Regardless of the destination or service used for international e-commerce shipments, it is imperative for etailers to:
Parcels are often delayed or returned to sender for the reasons above. By complying with the mandates in place, etailers will:
avoid fines and penalties associated with noncompliance.

reduce safety and security risks.

help ensure timely and efficient delivery to the EU.

prevent customs delays and/or costly return of non-compliant mail items.

ensure a more positive customer experience for shoppers.
Item Descriptions

Per the EU, vague item descriptions on customs forms, such as gifts, clothing, electronics, and even none, will no longer be considered acceptable descriptions. The EU has offered some guidance about providing acceptable item descriptions. Please view the chart below for some examples or, for more detail, see the EU's guidance on acceptable terms at the following link:
Guidance on Acceptable & Unacceptable Terms for the Description of Goods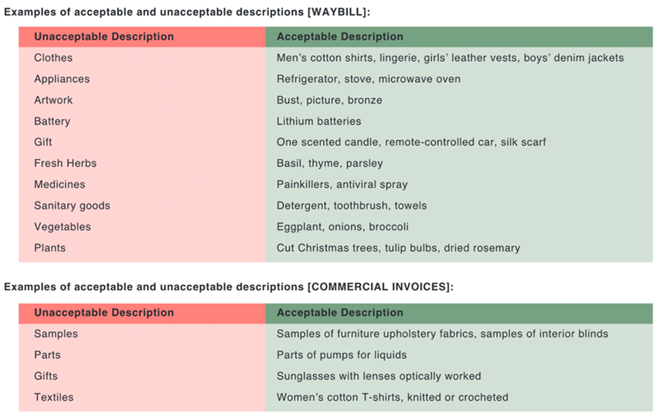 (Source: USPS)
Sender Details

Sender must be either a valid business or first name/last name and should be associated with the address on the label and in the file. Using generic sender names such as "Fulfillment Center" or "Mail House" is not allowed, and packages will be returned.
Prohibited Items & Dangerous Goods
Shipping non-mailable prohibited items will likely result in delays, returns, and potential fines. When shipping internationally, US retailers must comply with USPS international shipping regulations and the regulations of the destination country. Some items are prohibited (completely forbidden), and some are restricted (allowed under certain conditions).
For guidance on export regulations, please refer to the following resources:
Electronics & Lithium Batteries
Due to heightened security concerns surrounding batteries, lithium batteries that are inside repaired, damaged, or reconditioned items are NOT ALLOWED even if they are inside the unit they are meant to operate.
If the unit is new, it is highly recommend that the word "NEW" be used preceding the item description (for example, "NEW Samsung Galaxy S10"). Using the word NEW at the front of the item description ensures it makes it onto the customs form which has limited space.
If the electronic item containing a lithium battery is used and not a repair, this needs to be stated in the item description (i.e. "USED/NEW CONDITION item - Apple iPod Classic 5th Generation (A1136) 30GB Turns On, HD Clicks AS-IS READ").
Customs also suggests that if the item contains an allowed lithium battery, the sender should clearly indicate the Wh (Watt hour) in the item description to make it clear they are mailable. Please refer to the following specs:
USPS Packaging Instruction 9E: Lithium Metal and Lithium-ion Cells and Batteries — International and APO/FPO/DPO
Denied Persons List / Consolidated Screening List
The sender (etailer) is required by US law to verify that they are not sending parcels to anyone on the Denied Persons List. The Denied Persons List is a list of people and companies whose export and re-export privileges have been denied by the Department of Commerce's Bureau of Industry and Security (BIS). An American company or individual may not participate in an export transaction with an individual or company on the Denied Persons List.
The following page is an excellent resource and contains a link to the Consolidated Screening List, a list maintained by the U.S. Government that discloses persons or entities that have been denied export privileges or who raise a "Red Flag" that needs to be resolved before proceeding.
International Trade Administration, U.S. Department of Commerce Export Solutions
ICS2
On March 1, 2023, in addition to the regulations already in place around the world, the European Union (EU) introduced the latest release of the Import Control System 2 (ICS2) for goods transported by air to the EU, Northern Ireland, Norway, and Switzerland (regardless of origin). To learn more about ICS2 and how it impacts your business, please visit our dedicated web page below.
All about critical Security & Safety Changes
International Shipping Requirements to the European Union (EU)
The EU requires a Harmonized System (HS) tariff code on customs forms (CN22 and CN 23) and Advance Electronic Data (AED) for all EU-bound goods. The USPS also now requires an HS code for EU-bound goods. See below for an update from the USPS regarding these shipping requirements.
New international shipping requirements to the European Union (EU) effective March 2023
Being more detailed in the item descriptions you provide in your data file, using accurate quantities and values, and ensuring the items are mailable to the destination countries can help keep your packages moving without customs delays.
For questions about these guidelines, please reach out to your Asendia USA Account Manager. If you are not currently a customer of Asendia USA, feel free to Contact Us to speak with one of our experts.


The information provided on this web page does not, and is not intended to, constitute legal advice; instead, all information, content, and materials available on this page are for general informational purposes only. Information on this page may not be the most up-to-date guidance. This web page contains links to other third-party websites/resources. Such links are only for the convenience of the reader, user or browser.